Ensure your new starts have a smooth and successful onboarding experience by following these important best practices.
It takes time and effort to fill a new role. For example, our research found that it can take an average of 12 weeks between first identifying a high-skill permanent position to filling it.
According to hiring managers it can take a further eight weeks for a new hire to become productive. This means the entire process takes up to five months before a new recruit starts to add value to the business.
The cost of poor onboarding
Considering the time, effort and investment that goes into making a new hire, losing someone in the early days of their new role would be a significant loss.
And yet, 54% of candidates told us that they would seek to leave an organisation if the onboarding experience is poor. Our research found that there is a perception gap between how well hiring managers believe the onboarding experience is delivered compared with how candidates view it.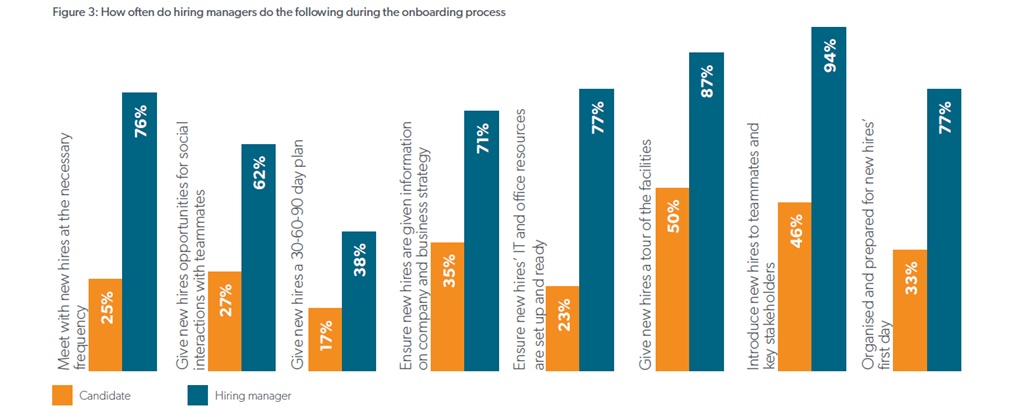 77% of hiring managers believe they are organised and prepared for their new hire's first day as opposed to 33% of candidates.
Being organised and prepared includes introducing a new hire to teammates and key stakeholders, giving them a tour of the facilities, ensuring their IT and office resources are set up and ready, ensuring a new hire is given a background to the company and meeting with new hires frequently.
A properly thought out job description written in conjunction with a 30- 60-90-day plan, which is clear and understandable, provides employee value propositions and insight into company culture and is the first step towards attracting top quality candidates for the role. Clearly differentiating between must have skills and nice-to have skills is a further step in the right direction. Properly vetting references and aligning screening questions will go a long way towards helping to identify the perfect candidate.
The candidate experience
It's also vital to take the candidate experience into consideration. Remaining in touch with the candidate during the interview process will keep them interested while a structured and well-communicated onboarding experience will ensure a candidate's successful integration into a new organisation.