We're excited to announce JA Career Pathfinder, a new career exploration platform from Junior Achievement of Central Maryland Inc. (JACMD) launched with funding support from Allegis Group. Designed for middle and high school students, JA Career Pathfinder offers an intuitive, interactive web experience that allows them to select what they want in a career – the salary, the interests, and the education level. The platform then presents careers in the Baltimore region that match their ambitions and shows them how their choices affect their education pathways and career options.
Nearly 3,000 eighth grade students from Baltimore County Public Schools will pilot the interactive web platform in their classrooms as a debrief activity following JA Inspire, a hands-on career exploration experience held in October at the Timonium Fairgrounds in Maryland. JA Inspire featured displays from more than 40 Central Maryland employers, including our company Aerotek.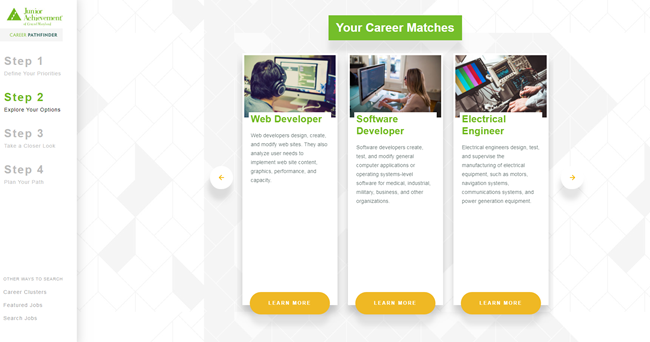 "To fuel the workforce pipeline in Central Maryland, we need to start early and expose youth to the exciting career opportunities that exist in our region," said Jennifer Bodensiek, president and CEO of JACMD. "Through JA Career Pathfinder and our other career readiness experiences, we are connecting youth to businesses, role models, hands-on activities, and information that motivates and enables students to plan for their futures."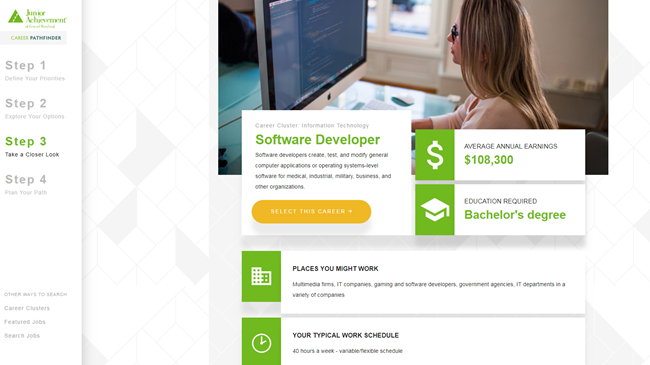 JA Career Pathfinder includes information about the most in-demand, high-growth careers available in Central Maryland. Pilot phase careers represent various education levels, industries, and average salaries. The portal is programmed, in part, with local data provided by the Baltimore Metropolitan Council and Towson University.
"Allegis Group is pleased to support Junior Achievement (JA) and the launch of the JA Career Pathfinder, a valuable initiative that will enhance our region's early workforce development efforts and ensure that young people are aware of in-demand careers that exist right here in their 1own community," said Rachel Russell, Executive Director of Corporate Strategy for Allegis Group, and Board Member of JACMD. "We're excited to see initiatives like these, and others we support worldwide, extend our passion for serving others and provide the building blocks for youth to reach their full potential."
A Partnership Aimed at Fostering Work-Readiness
Allegis Group invests in JA because the organization helps to shape the future workforce through skills, education, and information. JA's programs support students' dreams that they can be engineers, doctors, mayors, or anything else by exposing them to all possibilities and encouraging them to follow their aspirations. JA also embodies the workforce development pillar of our corporate social responsibility program. Their dedication to preparing students to not only understand the workforce landscape but also prepare for the many possibilities that are available is inspiring.
In addition to our support for JA Career Pathfinder, teams across Allegis Group companies such as Aerotek, TEKsystems, Major, Lindsey & Africa, and MarketSource participate in many other JA programs from Phoenix to Baltimore, such as:
JA BizTown

: Elementary-aged students get to experience the workplace for a day in a simulated town. After several weeks of classes, students are assigned jobs ranging from banker and mayor to financial advisor and marketing rep. They run their own city infrastructure, thereby connecting the dots between real-world experiences and classroom learning.

JA My Way

: This digital platform helps students to explore resources, education and career paths in science, technology, engineering, and mathematics (STEM). Users can learn about saving and budgeting while also discovering paths to become entrepreneurs.

JA Office Warriors

: Corporate teams, including members from Allegis Group company Aerotek, face off against other companies in office-themed contests, all to win bragging rights and raise money for JA. Events include K-Cup Towers, Whiteboard Pictionary, Water Cooler Bowling, Desk Chair Rowing, and more.

JA Bowl-a-Thon

:

Our company Aerotek uses this fundraising event to "STRIKE out financial illiteracy in our future leaders" while having fun.

Aerotek's Vice President of Strategic Delivery Solutions Stacey Jenkins also serves on JA of Central Maryland's board

.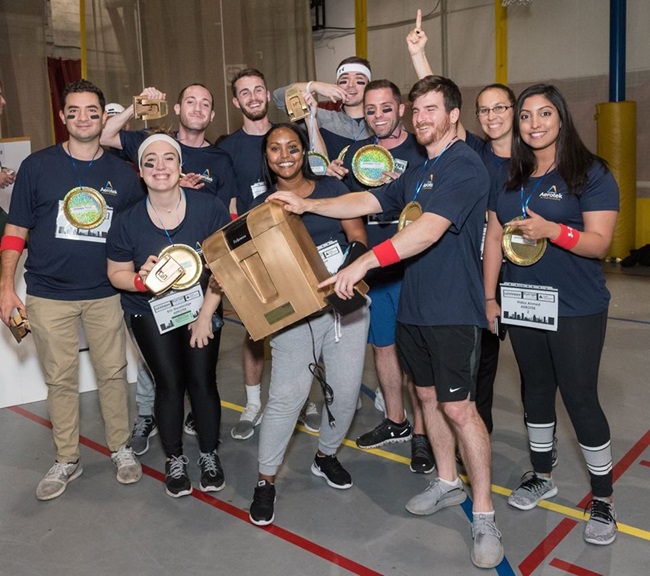 Junior Achievement of Central Maryland is part of Junior Achievement USA, the world's largest organization dedicated to inspiring and preparing young people to succeed in a global economy. Through a dedicated volunteer network, JACMD provides hands-on programs that show more than 47,000 K-12 students each year the realities of how careers, money, and business ownership work. JA experiences are proven to give students the edge in college completion, career readiness, earning potential, and business start-up.