At Allegis Group, we partner with organizations around the world that receive financial support, volunteerism, and board service across our family of companies. Three of our four primary philanthropy partners are household names (Red Cross, Habitat for Humanity, and Junior Achievement), but there's one charity you may not be familiar with, and that's APAFHDEM.
Based in Cancun, Mexico and short for Asociación de Padres de Familia con Hijos Deficientes Mentales, APAFHDEM promotes the development of young people and adults with intellectual disabilities to become productive through workshops, employment, and relationship building. It was organized by a group of parents, who for the last 25 years have come together to make piñatas, bake desserts and bread, and more, as a way of building life and job skills in a safe, comfortable environment. APAFHDEM also works to protect the legal and civil rights of children and adults with intellectual disabilities while raising awareness and fostering acceptance in their communities.
"We value community partnerships and seek opportunities for employees to give back to organizations whose missions align with key areas of our business including education, workforce development, and employee engagement," said Allegis Group Manager of Corporate Social Responsibility (CSR) Megan Waranch. "Since some of our company incentive trips are in Cancun, forging a partnership with APAFHDEM was a natural way for us to give back and impact the local community. And while our relationship with APAFHDEM exemplifies how we're living our CSR commitment to serve others, what really impresses me year over year is how passionate our employees are about ensuring that those served by organizations like APFHDEM truly enjoy an enhanced, inclusive quality of life."
Allegis Group has funded projects at APAFHDEM for the past four years to continually improve its school programs and the quality of life for its students. Initially, the organization used our funding dollars for smaller projects including the installation of air conditioning units to make inside room temperatures more comfortable in the summer months, as well as for the purchase of physical therapy floor mats. Last year, funds enabled a dome to be built over the playground blacktop, which resulted in a year-round space that's protected from the sun and accessible not only for recreation but also for therapy.
Giving Their Time to Make a Difference
In recent months, employees from Allegis Group companies Aerotek and TEKsystems participated in three service projects at the facility, alongside staff and students. One group dug in, literally, to prepare a community garden that will eventually bear fruits and vegetables that students will be able to cook for their meals, as well as medicinal plants to be used for therapy and medical treatment.
Another group painted the façade of a newly constructed multipurpose room that includes an additional kitchen and bathrooms funded by Allegis Group, as well as the opportunity to be rented out to local community members, thereby generating income for the school. The final group worked with students to craft piñatas, the sale of which provides the school's main source of income, employment, and therapy. All participants finished their time at the school with a dance lesson under the newly constructed blacktop dome.
Experience Makes a Lasting Impact
Volunteer Chris Landrum, who works as an on-premise account executive with Aerotek in Tacoma, Washington, said visiting APAFHDEM made a lasting impact, noting that from the moment he arrived onsite, he knew the experience was going to be something special; he just didn't know how special.
"Hearing about the impact Allegis Group has had on APAFHDEM over the past four years and learning about its importance within the community was captivating," he said. "It wasn't just about the school; workers spoke so highly about us – Allegis Group and all its companies. I don't think I've been prouder to be a part of this company than in that moment. It was humbling." Allegis Group contributions in past years, for example, turned an old building into a banquet hall with kitchen, upgraded bathrooms, created a garden, and constructed an outdoor recreational facility with new asphalt and basketball hoops. "We did all this with the intent to help the school generate revenue and become self-sufficient while giving families a place to build social and work skills," Landrum explained.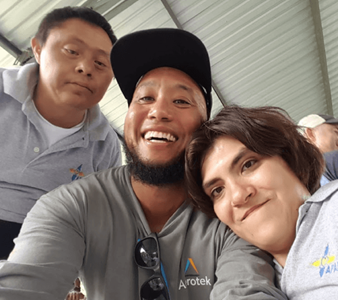 TEKsystems Account Manager Avril Do shared similar feelings, noting, "It was incredible to be offered this opportunity to not only see the impact our dollars and past efforts have had but to also do something special and in a personal way. Helping these underprivileged kids with disabilities will forever hold a special place in my heart."
Seeing the various physical-property additions was indeed inspiring for our volunteers, but the real joy for Landrum and Do came from engaging with students, which began with a facility tour.
"Seeing all the students and their smiling faces, the volunteers, the piñatas, the bakery, and knowing our contributions are being used in such a positive way was amazing," said Landrum. "We couldn't wait to get our hands dirty and help build, paint, garden, and do anything we could to make a difference. My experience with APAFHDM impacted my life for the better. For the remainder of my career, if I'm fortunate enough to get back to Cancun, I know I'll be back at the school, dancing, and having a blast with a bunch of smiling faces. I can't wait."
Do is personally extremely passionate about giving back in his personal life. He and his wife founded the Vietnamese Education Fund, a charity that provides STEM scholarships for underprivileged students in Vietnam. "I'm proud to identify with a company that gives back in such a significant way," he concluded. "Allegis Group and its network of companies truly live their #AllegisCares mission of connecting employees to experiences that create opportunity for others through service. And so whether it's with my scholarship fund or groups like APAFHDEM, I'm a better person for it because I'm making a difference with my co-workers and that feels amazing. "