Sarah Pullano operates on passion, striving to create career opportunities for veterans and those with disabilities while also driving employer strategies to improve workplace inclusion. In her job as a senior account manager and disability advocate at Getting Hired, she also relishes the chance to join her team members in quarterly service activities. We recently sat down with Sarah for an update on Getting Hired and used the time together to catch up on her travel plans, talk about her love for Motown, and more. Here's how the conversation went.
Q: Why did you join Allegis Group?
Sarah: After my husband Tim and I moved, I started looking for a new job. At that time, Tim had been working at Aerotek for a number of years. He loved the company (and still works there today), so he recommended Aerotek as an organization that I would enjoy working for, too. He was right! I spent a few years at Aerotek's corporate office in Hanover, Maryland as a business operations associate, where I was involved with invoicing and collections. I stayed with Aerotek a few years before transitioning my skills to another Allegis Group company, Getting Hired. What I love most about Allegis Group is that there are endless opportunities between all the different companies for career advancement. I know a lot of people who have grown in their careers by working for various Allegis Group companies, and it's great because they all share the same core values, core competency in attracting the right talent to get work done with excellence, and the same core purpose of creating opportunities for others.
Q: Why does working at Getting Hired appeal to you?
Sarah: I've been a Getting Hired account manager for three years and was recently promoted to a senior role. I work with employers to implement disability recruitment strategies that support a more inclusive, internal culture. I have immediate family members with disabilities such as low vision and non-apparent disabilities that I want to educate people about. I think it's imperative that everybody understands what disability is, becoming aware that a disability can be acquired at any time, change over time, or not even be apparent. At Getting Hired, we offer different services, like disability etiquette training for recruiters and hiring managers, as well as webinars with community partners, including Autism Speaks and the National Multiple Sclerosis Society. We recently presented a webinar with Microsoft to talk about inclusion strategies and accommodations in the workplace and non-apparent disabilities. We also partner with military organizations like Wounded Warriors or Paralyzed Veterans of America to gain insight on how to better serve veterans with disabilities. We do amazing work at Getting Hired to help improve internal work cultures and to fight that fight for individuals with disabilities so they can have the same opportunities as anyone else.

Closed captioning available by clicking the "CC" icon within the video.
Q: Who plays a significant role in your happiness at work and your career success?
Sarah: For me it's simple; it's my team. I'm people-driven. I love the people I work with, and they motivate me every single day. At Getting Hired, we all share a passion for helping others and making a difference in their lives.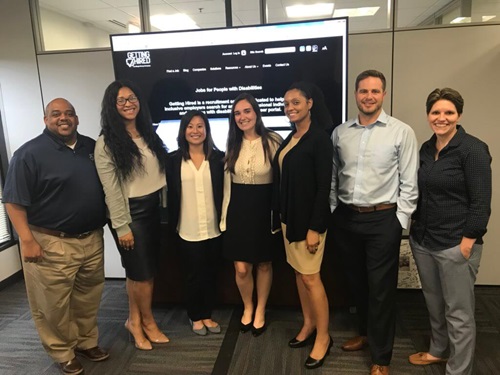 Q: Getting Hired does a lot of work to support corporate social responsibility (CSR) initiatives. Tell us about some recent activities.
The Getting Hired team is extremely dedicated to giving back to local communities and non-profit organizations. I recently became a member of I Run 4 Michael, which pairs runners or anyone who enjoys being active with someone with special needs. I have a designated buddy who I dedicate my workouts to and upload them through social media for him to see and respond to. The goal is to establish a life-long friendship, and I love the inspiration we give to one another through our workouts and conversations.
Q: Talk about the level of opportunity you see for career and personal growth across Allegis Group. Sarah:
There are vast opportunities within Allegis Group's
global network of specialized talent solutions companies
. If you need a change, fresh start, or just want a new area to translate your skills to, you can transition into a new department or new company. In terms of personal growth, that is something I have undoubtedly seen in myself since my start with Aerotek, especially under the leadership of Getting Hired's Director
Jill Stutzman-Deaner
. What I love about Jill is that she shares the same care and passion for inclusion as the rest of our team, and is relentless in her mission to grow our company and create opportunities for everyone within it. When I hear the word "opportunity" I also think about the job seekers Getting Hired supports in their career search, and how we are finding and creating opportunities for them with the employers we work with.
Q: What skill would you like to learn and why?
Sarah: I would like to become fluent in Italian. I was adopted from South Korea, and my parents are first-generation Italians born here in the United States, but they never really practiced the language around me. My recent desire to learn Italian stems from my trip to Italy this past year to visit family members whom I had not met before. Although many members of my family speak English, knowing the language would benefit me, especially when meeting distant relatives. Italian culture is very ingrained in who I am, and I would love to become even closer to the culture by learning to speak the language.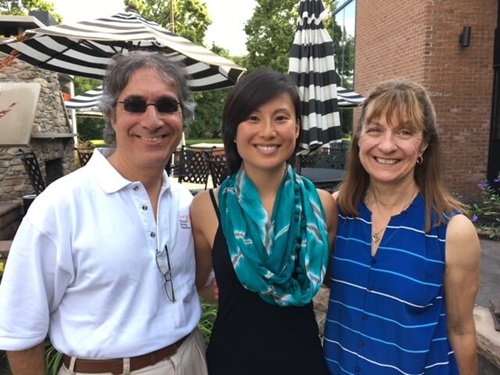 Q: How do you spend your free time?
Sarah: My husband and I are dog lovers, and our two Labradors take up a lot of our time in the best ways. We are very active and love to be outdoors whenever possible hiking and seeking out new parks. My husband and I also like to travel. This past June, we visited five different U.S. states in just four weeks. Soon, we are flying to Germany to visit my husband's aunt and uncle who live in the heart of Berlin. Like us, they love spending time outdoors, hiking and riding bicycles, so there is already a lot planned for us to do.
Q: With all that traveling, what on your playlist keeps you entertained?
Sarah: I am an old soul when it comes to music. So while I didn't grow up listening to it, I love Motown. When I was a child, my dad played a lot of rock like The Beatles, The Rolling Stones, and Jimi Hendrix, which I also often listen to, but when I'm with my husband's family, we listen to all of the Motown groups I love like The Temptations, the Four Tops, and Otis Redding. I love music from this time because it has a passion and soul that's so different from today's hits. Otherwise, coming from Italian roots, I am a huge Frank Sinatra fan!
Learn More About Getting Hired
If Sarah's story inspires you, make time to learn more about Getting Hired. Employers can inquire about posting open positions, and job seekers and veterans with disabilities can seek assistance on a job search. Employers gain access to an untapped labor pool while individuals can achieve their career goals using a fully accessible career portal. Partner with Getting Hired today.
And be sure to catch up on Getting Hired's recent integration of the Google Cloud Talent Solution feature on their career site, which allows U.S. military service members and veterans to enter their military occupational specialty code to find civilian jobs that require similar skills!