At Allegis Group, we are committed to helping others and improving the communities where we work and live. On a local level, in towns near our corporate headquarters outside Baltimore, Maryland, many employees choose to live this commitment by serving the Living Classrooms Foundation, the National Kidney Foundation of Maryland, the American Diabetes Association, Junior Achievement, and the Maryland Food Bank. Here's a snapshot of some ways in which we recently impacted our communities.
Carnival Time for Living Classrooms Foundation
The Technology Management Office (TMO) within our Information Services (IS) department recently went above and beyond to support Living Classrooms, whose mission is to strengthen and inspire young people to achieve their potential through hands-on education and job training, using urban, natural, and maritime resources as "living classrooms." The team organized a day of fun for hundreds of children – an indoor carnival at the Living Classroom's Under Armour (UA) House in Baltimore.
Two hundred children, representing grades one to eight, enjoyed more than 20 stations, which offered a broad range of crafts and games. Upbeat music spun by an energetic DJ welcomed kids to the UA House, and carnival activities delighted everyone, who enjoyed bowling, tug of war, face painting, sand art, and balloon characters. Snowballs and a free giveaway were the icing on the cake for all attendees, who enjoyed a unique and memorable experience.

"The event was a lot of fun for both the kids and our team," said the team's Executive Director Bryan Fornadel. "It was amazing to see the energy and excitement all around."
Going Over the Edge for Support Kidney Patients
Earlier this year, members of Allegis Group's Corporate Tax team participated in the National Kidney Foundation of Maryland's 2017 Rappel, where participants traveled 15 stories down the Hyatt Regency Baltimore hotel, located along the city's Inner Harbor. The National Kidney Foundation of Maryland is dedicated to preventing kidney and urinary tract diseases, improving the health and well-being of individuals and families affected by these diseases and increasing the availability of all organs for transplantation.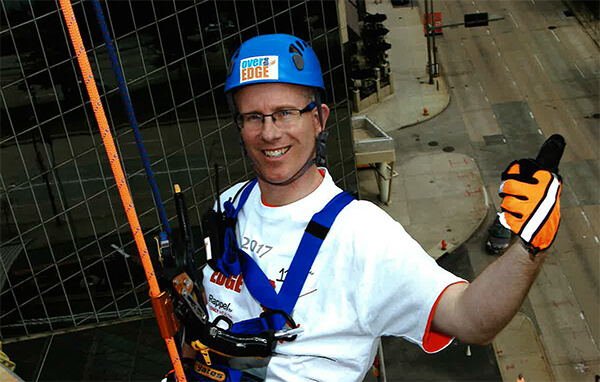 In hopes of raising awareness and funds, the team's efforts attracted their Allegis Group colleagues, accounting firm partners, and family members. With their help and support, the event raised almost $50,000 and featured 75 people who went over the edge. Allegis Group Director of Corporate Tax Michael Bison shared, "The rappel served as a pretty neat team building opportunity for us, and we are so appreciative of the continued support of Allegis Group."
Peddling for a Cure
The thrills continued for Allegis Group team members who participated in a fundraising bicycle ride, the Tour de Cure, to raise awareness and donations for the American Diabetes Association. Tour de Cure is the non-profit organization's premier cycling fundraising event and the nation's largest diabetes cycling event, providing a unique opportunity for businesses, clubs, friends, and families to come together to form teams with the vision of a life free of diabetes and all its burdens.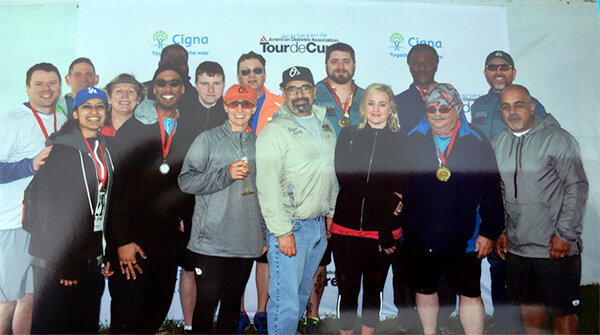 The Allegis Group team not only participated in the event to raise awareness but also exceeded their fundraising goal by raising over $20,000. The team was committed to participating together and raising money for this inspirational event, sharing, "We launched this fundraising effort because nearly 30 million people in the United States have diabetes, and we all personally know someone who is impacted by it."
Creating Pathways for Young Women
Several employees across Allegis Group and its network of specialized companies recently joined a group of promising young women at Junior Achievement's (JA) Her Path to Promise program. This program extends young women from Baltimore City the opportunity to create professional pathways for themselves, providing exposure to female mentors, college campuses, workplaces, hands-on activities, and other experiences to begin the process of preparing for a successful life after high school graduation. A strong Allegis Group partner, JA is known for its school-age programs, which provide relevant, hands-on experiences in financial literacy, work readiness, and entrepreneurship. The local organization reaches more than 40,000 students in 12 Maryland counties each year.
At the event, Allegis Group volunteers advised mentees on the "do's and don'ts" of interviewing, followed by mock interviews. Through these experiences, volunteers offered valuable feedback, connected with driven, young women, and aided in early career development. Corporate Recruiter Dee Brown noted, "It is so important to me to be that pillar of guidance for our youth. It was amazing to help them improve their interviewing skills. At the average age of 18, these women were very driven."
A Movement to End Hunger
Additionally, Allegis Group's Payroll Tax team recently spent a meaningful day supporting beneficiaries of the Maryland Food Bank, an Allegis Group community partner. The Maryland Food Bank is a nonprofit hunger-relief organization, leading the movement to end hunger throughout the state. Through carefully crafted programs, the food bank aims to meet the immediate needs of Marylanders while simultaneously working to find long-term ways to reduce hunger statewide. This organization currently distributes more than 112,000 meals per day or more than 41 million meals annually.
Allegis Group volunteers spent the day sorting and packing 30,021 pounds of food, which equates to 25,018 meals. "We had a wonderful experience," said Payroll Tax Supervisor Melissa Nowicki. "We will definitely be supporting the Maryland Food Bank again in the future."
Giving Blood, Saving Lives
Finally, in honor of National Preparedness Month, employees at our corporate campus participated in CPR training with the American Red Cross just this week. We're all feeling a lot safer at work knowing that some of our coworkers are now trained in citizen, hands-only compress ion CPR.
The same week, we also hosted a blood drive with the American Red Cross, an effort that helps millions of patients in need. The need is constant, and contributions help to ensure a healthy, reliable blood supply. Participating employees left the donation experience feeling good, knowing they've helped change a life.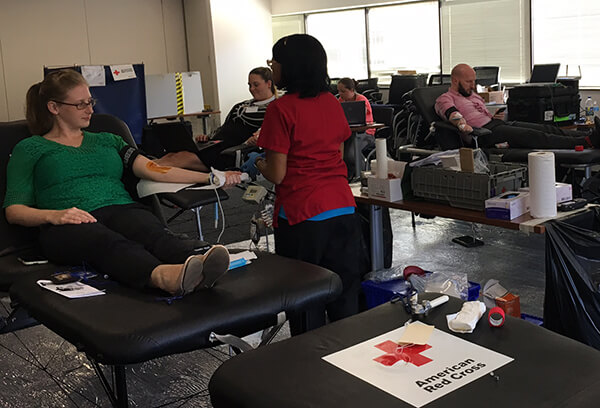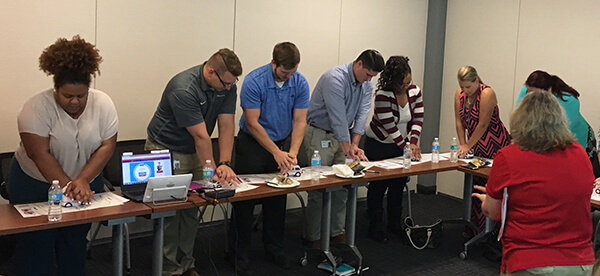 Visit the Corporate Social Responsibility section of our website to learn more about our activism and dedication to serving others. And, if you're looking for a new career with a company like ours, check out our job openings in Maryland and apply today!