We speak to Sjors de Ponti, Senior Consultant, TEKsystems about his personal thoughts on achieving a balanced life.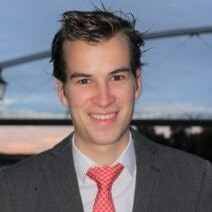 Sjors de Ponti is a Senior Consultant in our TEKsystems Brussels Office. As a high achiever in the business, Sjors is also regarded as someone who maintains a healthy balanced life outside of work too. Here he shares his personal thoughts on what it takes to get it right.
What does a balanced life mean to you?
For me, a balanced life means to wake up in the morning feeling happy to go to work and not feeling the pressure to work long hours. It is making sure that you divide your time between the job, your loved ones and other extracurricular activities. Apart from your career goals you should have personal goals and strive to achieve them as hard as your career goals. A balanced life means having the flexibility to attend major personal events and go home once your daily goals have been achieved.
How do you balance your time between work and life priorities?
I am a part of a great team in Brussels. One of our leaders taught me that, 'if you honour the trust you are given, play to win, work effectively during office hours and achieve good outcomes, you will earn the flexibility you need'.
He made sure that we worked effectively and managed our time. We are free to go to important personal events or medical appointments during work hours, are encouraged to do more sports and go home when we need to rest. These areas support our happiness and our productivity longer term.
I do think that planning is of the utmost importance. If you plan your day, have clear goals in mind and don't let yourself be distracted, there is no reason or need to be in the office from 6:00am to 8:00pm.
On a more personal level, I plan my gym hours during my break and I try to go home on time. I do believe that a healthy and balanced approach to your life is what contributes to a balanced life.
What advice would you give someone to help them achieve a balanced life?
Plan your life as you plan your work. Make sure that you have social activities planned every week and put them in your calendar. I believe in the no-excuses principle both in my job and in my personal life.
Another thing that works for me is I try to turn off my work email and phone after work hours and during my vacations. In the time I've been doing this, I don't think there has been a single email or call that couldn't be handled a day later. I clearly work this around my customer priorities.
What challenges may side-track you from having a balanced life?
The biggest challenge to a balanced life is when things go wrong at work. Once you are not hitting your targets or reaching your goals, you automatically tend to spend longer hours in the office.
A result of this is you can take your frustrations home and as a result feel down personally. It could also be that personal circumstances have an impact on the work place. It is a bit cheesy but try to leave work at work and home at home.
Where do you seek support or guidance when your time feels imbalanced?
There are several great examples of people with balanced life at Allegis Group.
A colleague with the ability to combine his family life with a great work mentality and grit taught me to rationalise work-related problems and how to be efficient. He also took me to the gym almost every day and showed me that even if your baby has cried all night and you've barely slept, you can still properly function both inside and outside of work.
Another balanced life go-to colleague has taught me how to be really organised, manage my time efficiently and use humour to relax.
In short, I believe that a good work balance starts with treating your life outside of the office with the same vigilance and importance as you do inside the office.
What can you do?
Your time is your own, and what you do with it has a big impact on your overall wellbeing:
Digital downtime: Take a digital break when you get home from work or decide a time when you will switch off. This will help you switch off both digitally and mentally ensuring you are fully present in the moment.
Social media: Sometimes we need to switch off from social media. Try using apps such as Breakfree.
Activity: Sport, mindfulness and hobbies are a great way of taking your mind off of work and it also helps to reduce stress levels.
Annual leave: Take your annual leave and be mindful of your peaks and troughs. If it's peak time and you're on annual leave, chances are you will end up working during your time off or come back to a lot of work. Plan smartly.
Time management: Develop your time management skills so you are making the most of your free time.
Make notes: Sometimes after we stop thinking about work, we have a genius idea (our brains have had time to process our day). When this happens, try using the notepad/notes function on your phone ready for work tomorrow. If you don't write it down, then you'll be thinking about it all night.