Allegis Group company Getting Hired is a recruitment solution dedicated to helping inclusive employers hire professional individuals and veterans with disabilities. Managing its day-to-day activities is Director Jill Stutzman-Deaner, a leader who understands that diversity in hiring doesn't simply mean a focus on gender and ethnicity. Jill also knows the challenges employers face in building an inclusive strategy and is dedicated to amplifying Getting Hired's services to enable thriving and inclusive workplaces while providing job seekers with fully accessible connections to employment resources.
Jill's daily inspiration to be her best self and drive those around her to success and impact come from the love of her son and wife. So we recently sat down to better understand how Jill's passion for family and sports, and her career in education, business development, and the non-profit sector have provided her with a quest to be better every day. Here's how the conversation went.
Q: At Allegis Group, we create significant opportunities for individuals to realize their professional aspirations and achieve personal success. How does that message resonate with you?
Jill: I strive to create an inclusive environment for my team and advocate for the same within the organization. Allegis Group prides itself on their people. I have been impacted first-hand by those people in a way that reaches beyond the office walls. When I first joined the Allegis Group network of companies in 2014, it was with Aerotek, which provides engineering, scientific, professional, and industrial recruiting, staffing, and strategic outsourced solutions for virtually every major industry. I had been on a career path that was not necessarily welcoming to bring my most authentic self to work. Being a gay woman, I often hid my personal life for fear of being judged or by the lack of inclusivity within other organizations. The people that I was surrounded by in the workplace in 2014 allowed me to let down walls and, in fact, celebrated my accomplishments in my personal life. For when I got engaged and planned to get married, my co-workers planned a surprise shower for which my wife and I were overcome with emotion. It was in that moment that we knew we found the right organization, and it was because of those people who created that culture. Those same people and more provided that same level of opportunity in 2016, when they orchestrated another surprise shower before the arrival of our son. So I have not only been thankful for the career opportunities within Allegis Group but, more importantly, I have been thankful for the personal development that has allowed me to live an authentic life both at home and at work. Feeling valued and appreciated for my differences has allowed me to gain confidence and be more productive, which benefits the company.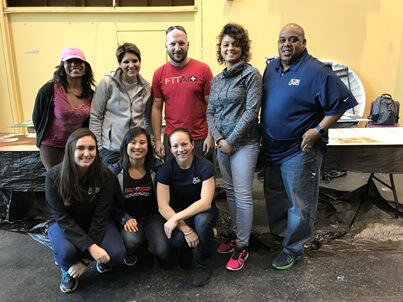 Q: What drives your happiness at work and in your continued career success?
Jill: Throughout my career, I have questioned if I was in the right field or doing the right thing or wondering if this really makes me happy. Although I have gained a wealth of experience and knowledge in my career journey in both education and sales, when I joined Getting Hired in 2016, I knew that this is where I belong. In my mind, we all experience highs and lows in our day-to-day, but I am truly happy getting to do what I do every day. I credit Tracey Klein, Executive Director at Allegis Global Solutions (pictured below on left), for seeing the drive in me and bringing me onboard with the intent that I would someday lead the organization. She instilled a confidence in me that I view my role as a business owner and take full responsibility for making sure Getting Hired grows and is more successful year over year. I am very thankful that our paths crossed. My wife, Lindsey, and son, Lincoln, also inspire and motivate me every day to bring my best self to work. For me, family has played a huge role in my happiness both personally and professionally.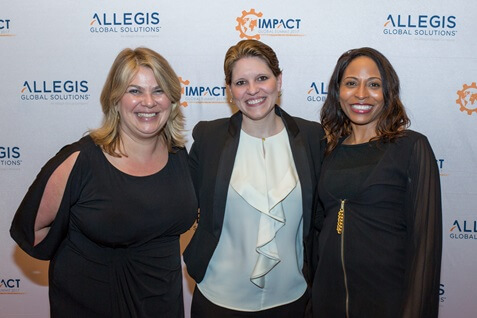 Q: Is there anything you'd do over?
Jill: Sports have been a huge part of my entire life. Although I am a firm believer that things happen for a reason and that we must go through obstacles to reach optimal success, I do have a time in life that I would like to have back and re-do. As a senior in high school, I was set to be a college athlete on either the soccer field or the basketball court – or maybe even both. Late in my senior year of basketball, I tore my ACL and MCL. In the 1990s, ACL injuries were starting to emerge, and I remember asking "what is an ACL?" For reconstructive surgery, the rehabilitation time was brutal; nine to 12 months was just about the worst news you could give a lifelong athlete who hadn't imagined a life without sports. Over 20 years later, I still have a tough time letting go of the fact that I let myself go to a place where I did not fully recover. I was not able to live that dream of being a collegiate athlete and instead lived through those four years watching time slip away. I still struggle with that knee and being a mom of a toddler, I am now motivated to get back on my game so he knows what his mom once was. Even after 20 years, I still am looking for a comeback!
Q: What career advice do you have for people curious about your field of expertise?
Jill: As a coach for many years, I look at my Getting Hired team under that same coaching lens. To be a successful team, you must have a passion for what you do, you must have talent, and you must have dedication. My team possesses all of those qualities, which is why we are growing in our success every year. Personally, I have always had a passion for underserved communities, which is why Getting Hired means so much to me. I did not come in as an expert in disabilities, but I was invested in educating myself and serving others from day one. My advice is to find something you feel passionate about and make it happen.
Q: Which of Allegis Group's core values is most meaningful to you – character, competitive spirit, relationships, serving others?
Jill: It's definitely serving others. I feel very fortunate that my role allows me to practice this every day and interact with a wide variety of people who strongly support diversity. From the customers we serve who are aiming to diversify their workforce by hiring people with disabilities to the job seekers we assist in gaining employment, it has always been my pleasure to serve any underserved population.
Q: How do you spend your free time?
Jill: I would love to say I am on the golf course (like the good old days), but these days, the only golfing I do is with a plastic club of my son's. Right now, my free time is dedicated to my family, and I wouldn't have it any other way. Although, golfing and most other sports are in his future; I can feel it!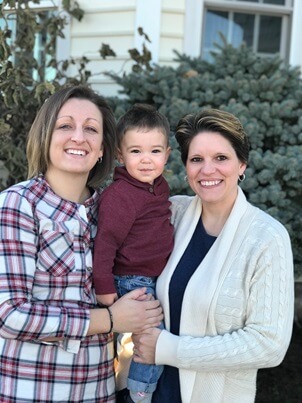 Q: What's on your playlist right now?
Jill: I grew up in the 1980s and am very nostalgic, so I would love to have headphones in, listening to 80's music and reminiscing of the days before technology and when kids played outside for hours without anyone knowing where they were.
Q: If you could travel anywhere, where would you go?
Jill: I would love to rent a very fancy RV and travel cross-country, seeing everything our country has to offer. I would narrate the entire trip for my family and most likely perform karaoke along the way. And since this would obviously involve a ton of money, I would also like to have hotel rooms for each night. Again, this would have to be funded by someone else!